2015
October 13, 2015
It's been a great year for the Hot Club. Charles Frommer has been playing with us full-time now, adding sophisticated vocal harmonies, driving bass, and silky smooth clarinet to our sound. Fans can now follow us both on Facebook and Twitter. We've played some wonderful concerts and made new friends. Check out our calendar and continue supporting live music!
2013
March 4, 2013
We're looking forward to the new year and seeing lots of our friends out there. We play regularly at Gomen Kudasai in New Paltz, so check our schedule. It's a wonderful Japanese restaurant, featuring genuine home-style Japanese cooking. You won't find anything like it in the Hudson Valley. Below is a photo of us there after enjoying a wonderful meal. John Sebastian came out to hear us there (see photo below, second from the right), and it was great to meet and hang out with him. Be sure to visit our Facebook page as well, and join our mailing list to be notified of where we're playing next.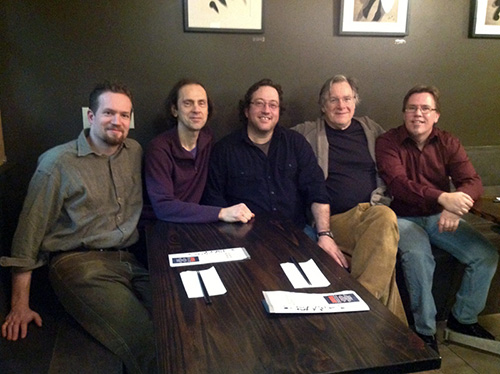 John Sebastian (2nd from the right) enjoying the Metropolitan Hot Club
MHC Unveils CD
Metropolitan Hot Club Live

at the Rosendale Cafe

February 28, 2009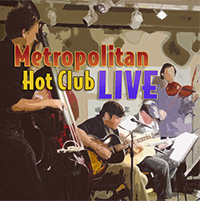 The room was packed again, as people's hunger for hot jazz drove them to this oasis of acoustic music. Two lucky raffle winners went home with free CDs, and many others enjoyed the concert enough to buy their own copies. Thanks to everyone for supporting us! We will be back at the Rosendale Cafe soon, so keep you eye on their music calendar.
The CD is full of music (we just couldn't fit any more on it!). 15 selections for $15. What a deal! Here's what's on it:
Swing Gitan (Angelo Debarre)
Dangerous Boogie (Michael Boyle)
Douce Ambience (Django Reinhardt)
Blue Drag (Joe Myrow)
I've Found a New Baby (Palmer/Williams)
I'm Confessin' (Daugherty/Reynolds)
Metro Minor (Michael Boyle)
Ou Est Tu, Mon Amour? (Emile Stern)
J'Attendrai (Dino Oliveri)
Dark Eyes (traditional)
Aurore (Fapy Lafertin)
After You've Gone (Creamer/Layton)
Djangology (Reinhardt/Grappelli)
Daphne (Reinhardt/Grappelli)
If you want your own copy, click here! Or just buy one at one of our shows and save yourself the shipping cost.
Unison Arts and Learning Center Concert
October 25, 2008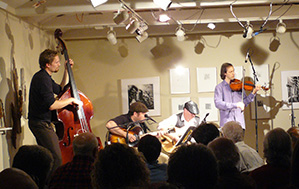 The rain was torrential, but that did not deter the many acoustic music fans who showed up for an evening of gypsy jazz. The venue was completely sold out by the time we started playing. This was one enthusiastic audience! Hal Lieberman joined us on trumpet for a few tunes, as did Ed Marris on accordion. The show was recorded live, and we'll be releasing a CD of the concert early next year. Thanks to all the folks at Unison for providing this wonderful space for musicians and artists to present their craft.
MHC at the Rosendale Cafe
August 23, 2008
The group played to a standing-room-only house last night at this hip acoustic music haven in Rosendale, NY. We were all astounded at the reception we got. Gypsy jazz is definitely alive and well, and audiences are eating it up! Two special guests joined us for a few tunes: first, Aaron's father, Hal Lieberman, on trumpet; and later, accordionist Ed Marris. At the end of the night, the audience wouldn't let us leave, so we had both Hal and Ed join us for an encore as a sextet. Thanks to everyone who came and made this evening of music a big success!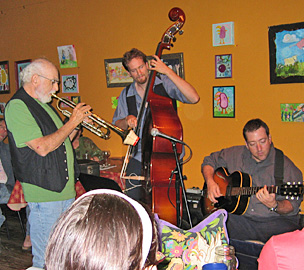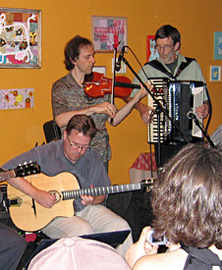 MHC Welcomes Martin Keith
June 4, 2008
Martin Keith now joins us on acoustic bass. Martin has been playing bass for about 15 years. His lifetime love of music has led him to play in almost every style and genre, and he has performed with artists such as Vassar Clements, Peter Rowan, David Grisman, Chris Hillman and Herb Pedersen, Ben Perowski, and (of course) his father, bluegrass banjo innovator Bill Keith. This love for music also extends to his working life, building guitars and basses for Martin Keith Guitars. Welcome, Martin!
CD Now Available!
May 31, 2008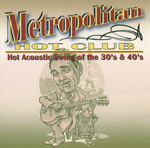 Our new CD is now available, featuring 10 selections, including three original compositions. Two of the originals feature special guest, Frank Vignola. Come hear us at one of our performances and purchase a copy, or send us an email to get one. Here's what's on it:
Metro Minor (Michael Boyle)
Djangology (Django Reinhardt)
Eternally (Michael Snow)
Lady Be Good (George and Ira Gershwin)
Heavy Artillery (Django Reinhardt)
Dangerous Boogie (Michael Boyle)
My Blue Heaven (Walter Donaldson/George Whiting)
Nuages (Django Reinhardt)
Lulu Swing (Lulu Reinhardt)
Tears (Django Reinhardt)
MHC Welcomes Aaron Lieberman
August 11, 2007
Aaron Lieberman now joins us on rhythm and solo guitar. Aaron is a graduate of Manhattan School of Music, and is a long-time fan of swing music from the 20s, 30s, sand 40s.
MHC Performs to Standing-Room-Only Audience at Thrall Public Library
Nov. 5, 2006
The word must be out: This style of music is more and more popular, and Metropolitan Hot Club is hotter than ever! Joining the trio for this gig was Mark Bernstein, jazz guitarist, adding solid rhythm and tasty solos, helping create that authentic Hot Club sound. The room was completely packed, and accolades abounded as the group not only perfomed a wide range of tunes, but enlightened listeners with little-known tidbits of information about Django Reinhardt, his music, and his influence on other musicians.