About Metropolitan Hot Club
CLICK HERE to download our full press kit in PDF format.
Right-click or control-click the link to download to your computer. Contains a high-resolution, full-size band photo.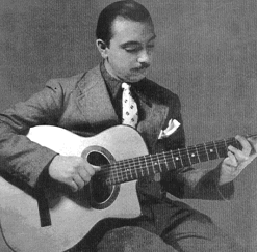 Metropolitan Hot Club is a Gypsy Jazz band that plays Hot Swing of the 30s and 40s. Steeped in the gypsy jazz tradition, MHC celebrates the music made popular by the legendary guitarist, Django Reinhardt.
Click here to learn more about Django Reinhardt.
All band photos by Snappy Jeff
The band's founding members, Glenn Tosto and Michael Boyle, met in January of 2003. There was an undeniable chemistry between the two guitarists from the first notes they played. Their shared obsession with the music of Django Reinhardt spurred them on to play for hours on end, trade ideas and licks, and listen to the great music from an era gone but not forgotten. The current lineup is as follows: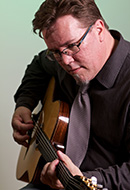 Michael Boyle, guitar. Michael Boyle has been playing guitar in and around the region for over 30 years. He played in various high school rock bands and eventually starting a Western Swing/Cajun band called Swing Shift with Frank Urbanovitch (fiddle player for the14-time Grammy award winning Jimmy Sturr Orchestra) that played in the area for a few years with great success. After Swing Shift disbanded, Michael was looking for a project that would incorporate his love for music from the 30s and 40s. Discovering Django's music opened a whole new musical world. Michael started to study with acclaimed jazz guitarist Frank Vignola (who has played with Mark O'Connor's Hot Swing Trio, David Grisman's Quintet, and Leon Redbone, to name a few). That eventually lead to Michael starting Metropolitan Hot Club.
Michael is also a trained woodworker and luthier, and in addition to his Shelley Park gypsy guitar plays a hand-carved jazz archtop guitar of his own making.
If you would like to inquire about guitar lessons, send Michael an email.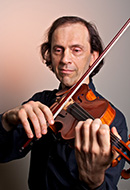 Michael Snow, violin. Michael joined the group in the spring of 2006, completing the true hot club sound with his swinging violin. Michael's first instrument was the piano, and he went on to the banjo, the mandolin, the guitar, and the violin, which soon became his main instrument. His passion for expanding his musical boundaries led him from studying with third-stream artist Ran Blake at New England Conservatory of Music, to Yale University as a music major, to jazz violinists Julie Lyonn Lieberman in New York City and John Blake in Philadelphia, to the Bhatkhande School of Music in Lucknow, India (where he studied North Indian classical music on the sarangi, a violin-like bowed instrument). At City College in San Francisco, he studied composition and jazz arranging.
He has been a regular member of over 20 musical ensembles of all sorts — jazz, swing, country, bluegrass, classical, contradance, rock, fusion, free improv, blues, avant garde, tango, and more; has recorded for records, CDs, demos, film, and TV; has performed for modern dance classes; and has taught privately for over 30 years. The excitement of hearing Stephane Grapelli for the first time in the mid '70s sealed his fate as a jazz violinist, and he is pleased to be getting back to his roots by playing in this group.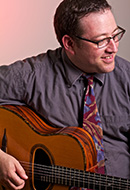 Aaron Lieberman, guitar and vocals. Aaron joined the group in the summer of 2007. He is happy to be taking on the responsibility of playing rhythm guitar in a gypsy jazz band, as well as contributing tasty solos. Aaron received his Bachelors of Music degree in jazz guitar from Manhattan School of Music. During that time, he helped to form the rock band, God Street Wine. God Street Wine recorded three major label albums and toured extensively throughout the United States, Canada, and Europe, sharing the stage with artists such as Bob Dylan, The Allman Brothers, and The Black Crowes. Since that time, Aaron has enjoyed playing many different styles of music, including rock, jazz, and even klezmer, and has written and/or performed with various artists in and around New York City.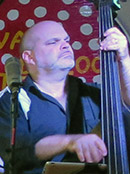 Charles Frommer, upright bass, clarinet, and vocals. Charles began playing professionally while still in high school in Bloomington, Indiana. After studying with Ran Blake at the Third Stream Studies program at New England Conservatory, he continued working in Boston for ten years and then moved to New York, where he has done varied work in jazz, rock, blues, on- and off-Broadway shows and tours, and radio, television, and film work. Having made the Hudson Valley his home base since 1997, he began performing with the Metropolitan Hot Club on select gigs after a spontaneous guest appearance in High Falls. His lifelong affinity for the music of the early jazz age and swing era resulted in a happy and rewarding association with the Hot Club.