Metropolitan Hot Club Live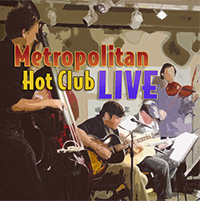 The rain was torrential, but that did not deter the many acoustic music fans who showed up for an evening of gypsy jazz. The Unison Arts and Learning Center was completely sold out by the time we started playing. This was one enthusiastic audience! Hal Lieberman joined us on trumpet for a few tunes, as did Ed Marris on accordion. The show was recorded live, and the result is this CD. It's full of music (we just couldn't fit any more on it!). 15 selections for $15. What a deal!
Here's what's on it:
Swing Gitan (Angelo Debarre)
Dangerous Boogie (Michael Boyle)
Douce Ambience (Django Reinhardt)
Blue Drag (Joe Myrow)
I've Found a New Baby (Palmer/Williams)
I'm Confessin' (Daugherty/Reynolds)
Double Whiskey (Django Reinhardt)
Metro Minor (Michael Boyle)
Ou Est Tu, Mon Amour? (Emile Stern)
J'Attendrai (Dino Oliveri)
Dark Eyes (traditional)
Aurore (Fapy Lafertin)
After You've Gone (Creamer/Layton)
Djangology (Reinhardt/Grappelli)
Daphne (Reinhardt/Grappelli)
If you want your own copy, click the Buy Now button below, pay with either a credit card or a PayPal account, and we'll send you one. Or just buy one at one of our shows and save yourself the shipping cost.